[ Home ] [ Up ] [ Resume ] [ Gallery ] [ Workshop & Exhibits Photos ] [ Current Events ] [ American Art Society ] [ Art Terminology ] [ Arte al Dia ] [ Construction & Remodeling ] [ Profesional Photographer ] [ Family ] [ Armel's Twins ]
Fernando Betancourt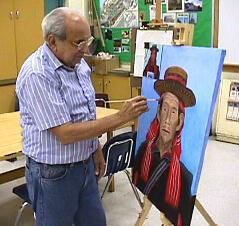 Born in Havana, Cuba. Immigrated to the United States in 1962 with my wife, Yolanda and two children, Fernando and Vivian. We settled in New Jersey, where my wife and I labored hard
to give our children a better life and a decent education. Iím currently a retired accountant living in Miami and enjoying my golden years.
Since I could remember I have always enjoyed painting and sketching. I owe this talent to my loving mother, who had abilities in painting, ceramics, embroidery, etc.
It seems that both my children have acquired the same desire and talent, making us an art loving family.
Since my retirement, I'm able to dedicate more time to my creative abilities. I've taken courses in Miami-Dade Community College School of Arts and Ií am currently enrolled in the Arts School of West Miami to develop my talents under the guidance of professors.
Contact information: